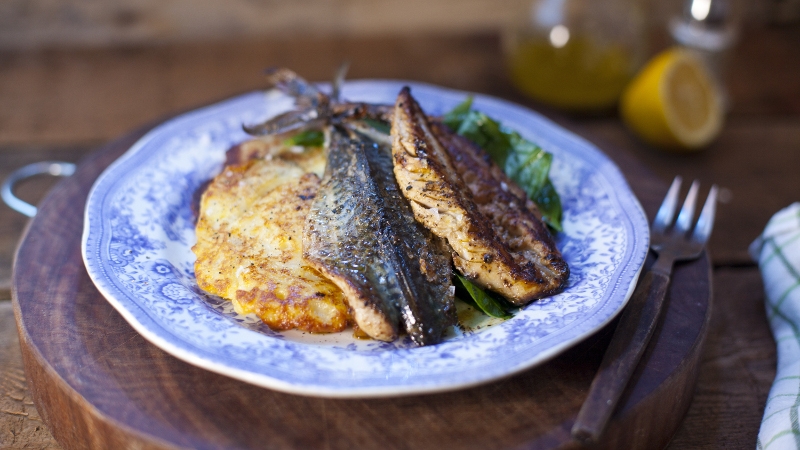 Boxty potato pancakes are a traditionally Irish recipe and they come with a great little rhyme that we were taught when growing up: 'Boxty on the griddle, boxty on the pan, if you can't bake boxty, sure you'll never get a man.' The traditional recipe varies from region to region, but they all use grated raw potato. This is the version that my family makes and they are great with a full Irish breakfast, or I also serve them with pan-fried mackerel and a light salad.
Ingredients
250 g (9oz) colcannon or mashed potato
250 g (9oz) peeled, grated, raw rooster potato
100 g (3½oz) plain flour
up to 125ml (4½fl oz) milk
knob of butter
a drop of rapeseed oil
sea salt and ground black pepper
Method
Put the colcannon, grated potato and flour in a bowl and mix until evenly combined. Add the milk, little by little, until you have a wet dropping consistency. Season to taste with sea salt and ground black pepper.
Heat a non-stick frying pan over a medium-high heat with a little butter and oil. When the butter begins to foam, spoon heaped tablespoon measurements of the mixture into the frying pan and fry for 3–4 minutes on each side until golden brown.
Remove from the pan and place on a plate lined with kitchen paper. Repeat with the remaining mixture. Serve the potato pancakes with fish, eggs, salad, etc.
https://www.rte.ie/lifestyle/recipes/2013/0131/744669-boxty-colcannon-pancakes/