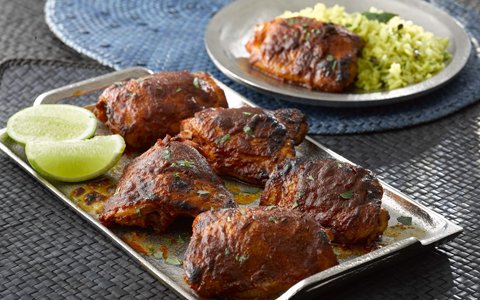 Ingredients
8 chicken thighs or 4 chicken breasts, skin removed
Salt and freshly ground black pepper

Marinade

Juice of 1 lemon
4 tablesp. Greek-style yogurt
4 tablesp. tandoori spice mix
Method
Place the marinade ingredients in a bowl and mix well together. Cut slits in the chicken and season with salt and pepper. Rub the marinade over the chicken making sure it is well-coated. Leave to marinade for as long as you can – the longer the better.
Preheat the oven to gas Mark 6, 200°C (400°F) .
Arrange the chicken in a single layer on a baking tray and bake for 25 minutes or until the chicken is cooked.
To prepare the rice: Heat the oil in a large sauce pan and add the onion. Cook over a medium-high heat until the onions are browned. Be careful not to let them burn.
Add the cinnamon, cloves and turmeric. Cook for 2-3 minutes.
Then add the rice and cover with the stock or water. Put a lid on the sauce and bring to the boil. Stir once, then reduce to a simmer for approximately 10 minutes. At this stage the water will have evaporated and the rice with be fluffy.
Serve the chicken with the rice, lemon and coriander yoghurt, some lemon wedges and a green salad.
https://www.bordbia.ie/recipes/chicken-recipes/tandoori-chicken-with-pillau-rice-and-lemon-and-coriander-yoghurt/